Sunday, July 31, 2022 - Thursday, August 4, 2022
Age - N/A
7:00 pm
Location
Oregon Christian Convention Grounds
Categories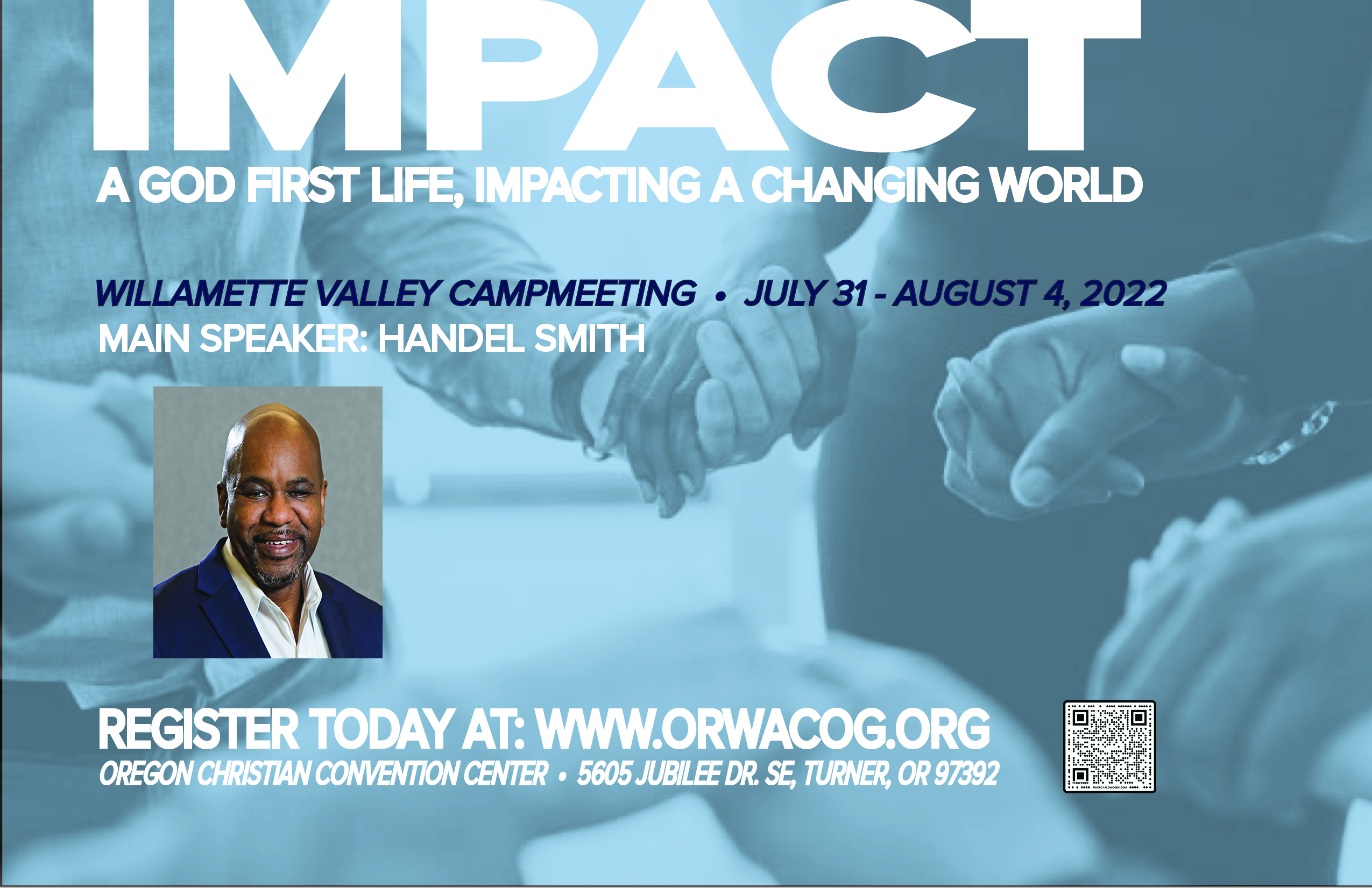 Making an impact is the call of every Jesus follower.  Handel Smith, Executive Director of US & Canada Strategy for Church of God Ministries, will drive home that theme as the main speaker for this year's Willamette Valley Campmeeting. Focusing on our theme, IMPACT: A God First Life, Impacting a Changing World, Rev. Smith will offer practical helps in living out this calling.  He will speak in the evening services starting Sunday night, July 31st, and will conclude our week with the morning service on Thursday, August 4th.  He will also speak at the morning youth sessions during the week. Victoria Smith, an accomplished musician and the wife of our evangelist, will be the worship leader for all the main services.
The Willamette Valley Campmeeting is a district-wide event that is designed to be a time of worship and inspiration for the whole family, with plenty of opportunities for fellowship and fun.  While the schedule is purposely kept minimal to maximize fellowship and rest, there are activities for both children and youth. There will be organized recreation as well as open times to enjoy swimming and floating down the creek that surrounds the property.
Held once again on the historic grounds of the Oregon Christian Convention Center in Turner, Oregon, onsite dining is available throughout the week for registered participants.  A variety of overnight lodging options are also available, including cabins, dormitory rooms, RV and tent spaces.  Daily commuters are also welcome.  Online registration is available through our District Website—www.orwacog.org or by using the following link:  https://form.jotform.com/220106302799048
One of the founding principles of this  annual week is to be low cost and donation supported.  Registration fees only cover a portion of the week, but through the generosity of many in our district and a legacy gift from the Holladay Park congregation, all are able to attend.  Both overnight and day use attendees are encouraged to register.
If you have never attended campmeeting, or if it's been years since you have been, come out this year to the Willamette Valley Campmeeting and be refreshed and . . . bring someone with you!
Steve Kufeldt
WVC Sec/Treasurer (Planning Team Convener)
Lead Pastor, Hoodview Church of God, Woodburn