Sunday, July 30, 2023 - Thursday, August 3, 2023
Age - N/A
7:00 pm
Location
Oregon Christian Convention Grounds
Categories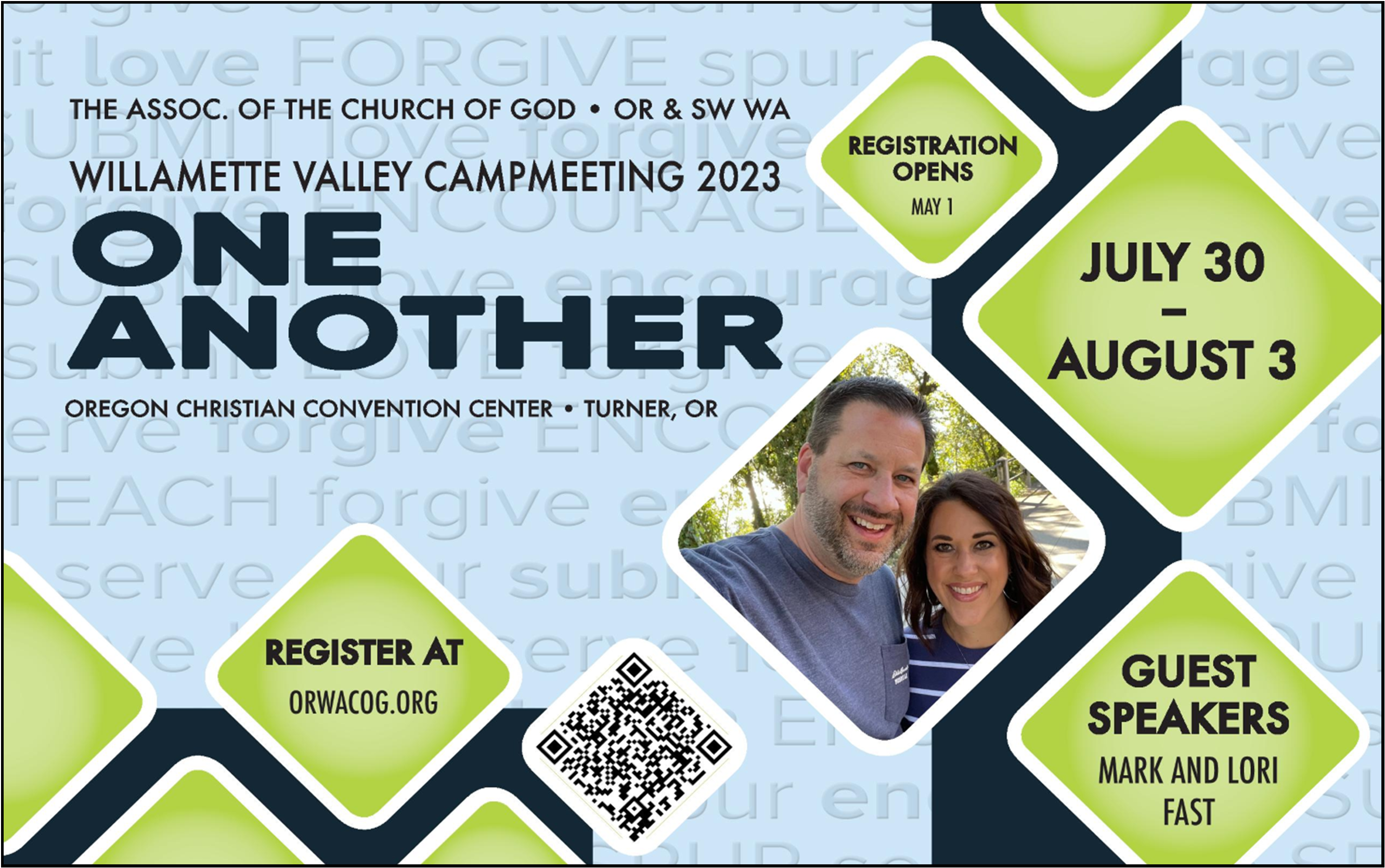 Willamette Valley Campmeeting 2023 will be here before you know it. Make plans now to join us July 30 through August 3 in Turner, Oregon, on the grounds of the historic Oregon Christian Convention. Mark & Lori Fast, who now live in our district and serve the greater church as part of the Church of God Ministries team, will be our speakers.
You will find the schedule below but here is also a download if you would like to print it:   WVC Program Schedule 2023
The Program Booklet is available here: 2023 WVC Program Booklet.pub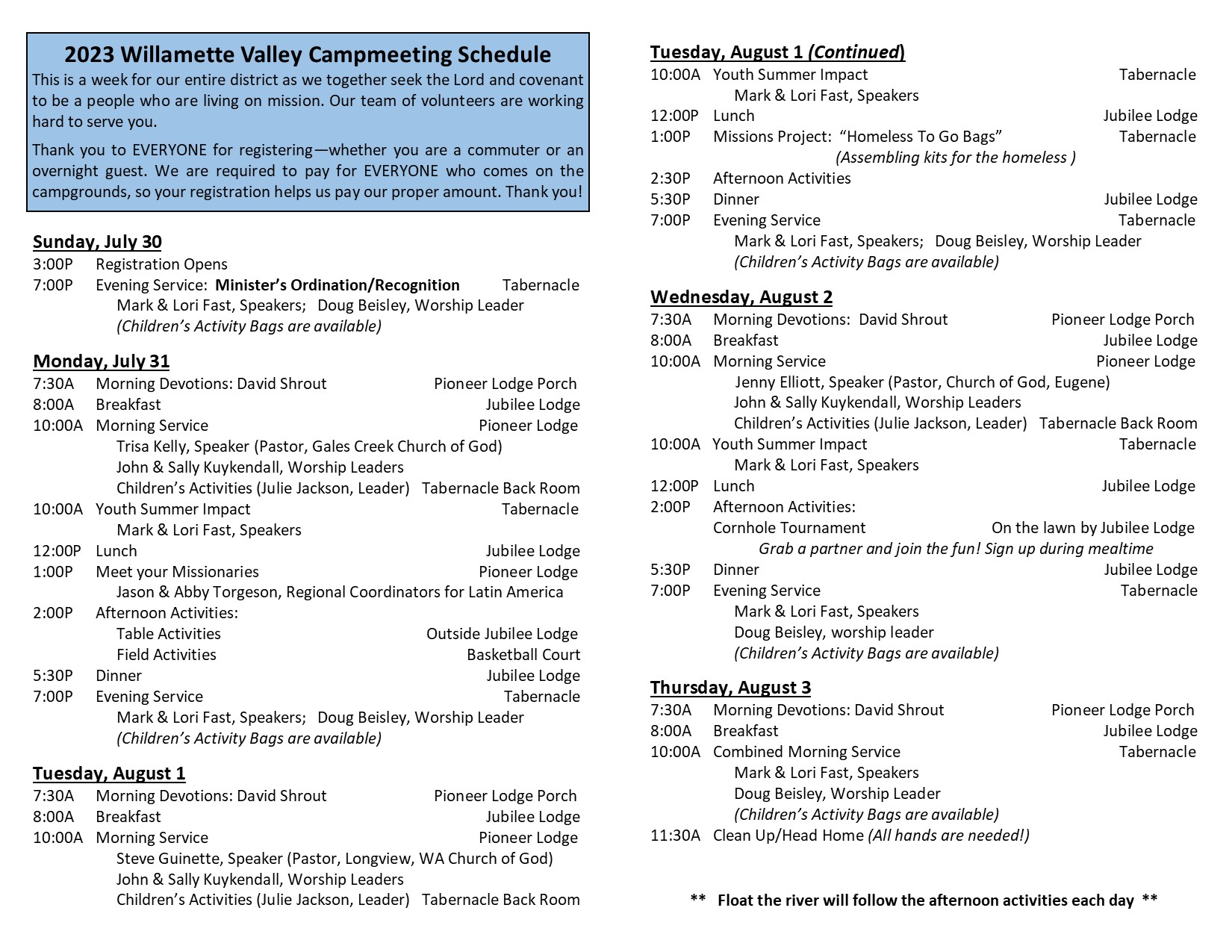 MISSION PROJECT
Want to be a part of the Mission Project at Campmeeting?  Here is the information for our Homeless Go Bags.  The bags will be assembled on Tuesday at 1pm in the Tablenacle.  We encourage you to bring some of the supplies and join us.  (If you would like a download to print, click here: Homeless Go Bags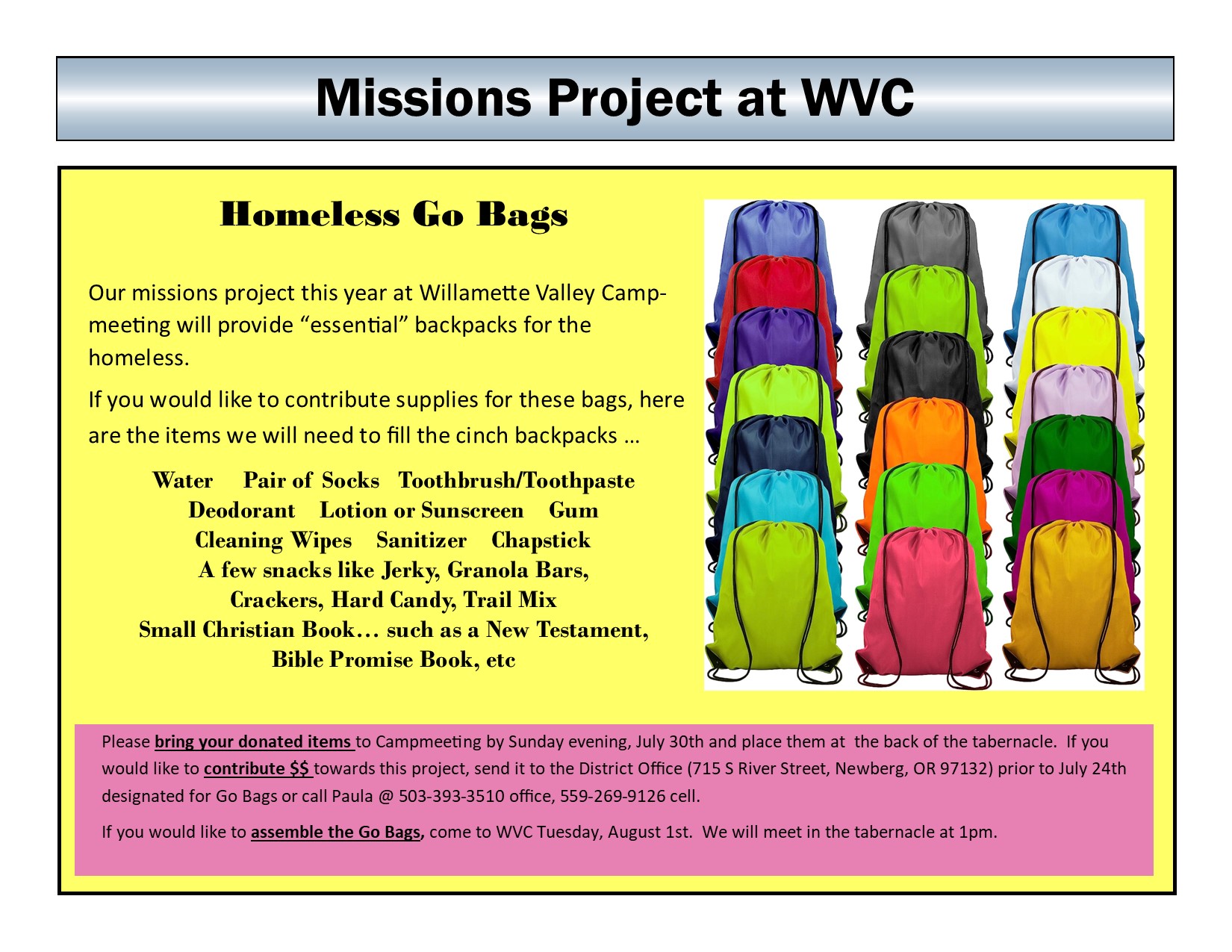 CAMPMEETING AT-A-GLANCE
Daily times of worship and renewal.
Daily children's activities.
Daily youth services.
Mission opportunity.
Recreation all week long.
Great food!
Onsite lodging is available (cabins, lodge rooms, and RV/campsites).
Daily commuters are also welcome!
Early morning devotions.
Plus lots of times for fellowship and fun.
Be part of the fun this year!
FEES/OFFERINGS
We operate campmeeting on a "donation basis" with minimal fees (basically what we pay the host site: $13/day for overnight guests and $5/day for commuters). We also cap the daily rate with a "family max" price (still to be determined). Program and food costs are dependent on free-will gifts by participants.
It's not too early to begin praying for this year's campmeeting. Pray for God's Spirit to reign and transform hearts and lives!
Blessings,
Steve Kufeldt
Secretary/Treasurer
Willamette Valley Campmeeting Association
Lead Pastor, Hoodview Church of God in Woodburn