Sunday, July 23, 2017 - Wednesday, July 26, 2017
Age - N/A
All Day
Location
Warner Pacific College
Categories
Summer IMPACT!
To Register

Online

Scroll Down

↓
You do NOT need a PayPal account to register.  When you click on the yellow button at the bottom of the form below, it will take you to a page where you can fill in your credit card information as shown below.  For a larger view, click on the picture.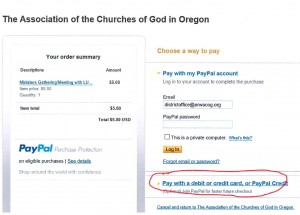 CHILDREN
Evening Program

Registration card coming soon
FOOD SERVICE, Warner Pacific College Dining Hall

Monday – Wednesday

Breakfast, $6.79 (all-you-can eat buffet)

Lunch, $10.66 (all-you-can-eat buffet)     (Tuesday lunch is complimentary & provided by Warner Pacific College)

Dinner, $11.15 (all-you-can-eat buffet)
LODGING, Off Campus
MINISTER'S RECOGNITION
Wednesday, July 26, 2017

Evening Service

Honoring those with 25, 40 & 50 years of ordained ministry service

Remembering those ministers in our district who have passed away in the last year
REFUND POLICY
Full refunds until July 5, 2017.  No refunds after that date.  Registrations may be transferred to someone else. 
YOUTH, 6th through 12 grades, & YOUTH

LEADERS
$65 per person if received by

July 7th

or before for the entire youth event (includes lodging, meals & activities Sunday through Thursday noon)
$85 per person if received by

July 8th

or after

Registration & info:

http://orwacog.org/events/summer-impact-youth/
Bookings